We joined the Sportspower Group in 1991, and traded in both Drouin and Warragul during 1993. In September 1994 we closed the Drouin shop and opened our present location at 21 Smith St Warragul. We parted with Sportspower in 1997, and joined with Karl's in Moe, Traralgon and Bairnsdale, and Howard and Schuback in Sale to become Nicho's Megasports.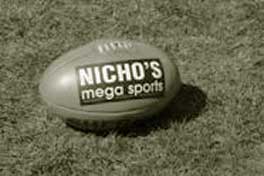 In 1998 we joined with the Team Sports Buying Group, to enable us to be even more competitive on range and price with national buying power for the store. Our owner, Peter Nicholson, became chairman of the Team and was instrumental in its growth, from a group of around 30 to its present size of 85 stores, stretching from Perth to the Gold Coast, and many major towns in between.
The Team rebranded as Independent Sports in order to provide a more visible profile for members to jointly advertise and promote the strength of Australia's largest independent buying group. In 2007 we opened our second location, Nicho's Independent Sports, five doors up at 33 Smith Street, to provide a broader range of big sports hardware and fitness equipment.
In October 2012, Nicho's formalized its strong affiliation with Independent Sports and rebranded as such, moving from Nicho's Megasports to Nicho's Independent Sports at both of our locations.
Phew. Still with us? More name changes than P Diddy. There'll be a quiz at the end for great cash prizes! Actually, that's a lie, but please, continue reading.
July 2014 brought our biggest leap - Becoming a member of Intersport, an international chain of independently owned stores boasting nearly 6000 stores worldwide, based out of Europe. Intersport commands great deals and products exclusively from ADIDAS, NIKE, ASICS, PUMA, BROOKS, MIZUNO and dozens of other leading brands' international ranges. This allows Nicho's to provide Gippslanders with access to products hitherto unavailable outside of Europe, such as Cyril Rioli's signature adidas boots.
Nicho's has always focused on supplying a broad range of sports gear, for sports including cricket, soccer, Aussie rules, tennis, hockey, table tennis, netball, water sports, fitness and gym equipment, basketball, squash, badminton, and a variety of family games, trampolines and accessories. Part of our ongoing service has been our ability to supply club and school orders, and team uniforms for many sports.
Nicho's is a leading sponsor of countless local sporting organisations, from Little Athletics to the Warragul District Cricket Association. We have a long history of supporting and sponsoring local clubs and leagues, as well as involvement on an organisational level. It would be no exaggeration to say that Nicho's had contributed well over $200,000 to local sports in sponsorship, awards and incentives over the years.
What's in it for the customer?
Great value, excellent product knowledge, and a huge range of gear from trusted, experienced, committed, and motivated team. We are proud of our service and quality product range, and look forward to being able to improve our service further through the internet.
Try us - we think our range will suit your needs.
Peter Nicholson
Owner